Assessment Books
By tracing a name through the tax records, one might be able to determine when an ancestor moved into an area, left a township, married or died.
Although the exact form of the tax records may have varied from year to year, most of them provide such data as the name of the taxable inhabitant (usually male), the number of acres owned by the person and the amount of the assessment or tax. Also noted may be the taxpayer's occupation, the number of horses and cattle owned, and, occasionally, information about the structures on the property.
Within each township, the names of taxable persons commonly are listed in alphabetical order under two categories. First, you will find the names of married landholders or of their estates. If a person died within the year prior to the date of the record, the notation "Est." or "Estate" may be made after his name or the widow's name might be given as the taxpayer. This designation may appear in the tax records for several years after the death of the landholder until the estate no longer was responsible for payment of the taxes on the property. At the end of the enumeration for a particular township will be the names of unmarried, single men aged 21 years or older who did not own real estate. This section often is headed by the designation "freemen." Such individuals paid an established fee not based on a property assessment. When you observe that the name of a single man moves from the "freemen" list one year to the landholder list the next, you may assume that the man married within the year.
Many of the township assessment records also contained a section entitled "poor children." This section lists the name of the father (and sometimes the mother) and the children and ages who they could not afford to school. You can use tax lists to trace ancestors who might otherwise be undocumented.
The earliest tax list that has been found, covering what is now Bradford County, was made for "Up the River District," County of Westmoreland, Connecticut, in 1776. The "Up The River District" was the settled upper section of the Susquehanna River Valley, in what is now Bradford, Wyoming and upper Luzerne Counties (Source: Clement F. Heverly). There were sixty taxables on the 1776 list and thirty-two on the 1777 list. The lists for 1776 and 1777 are here given. Both lists are dated August of that year. Click on each year to go to the list.
At the bottom of this page is a list of tax assessment books that are available.
An example of a page from the Assessment Books: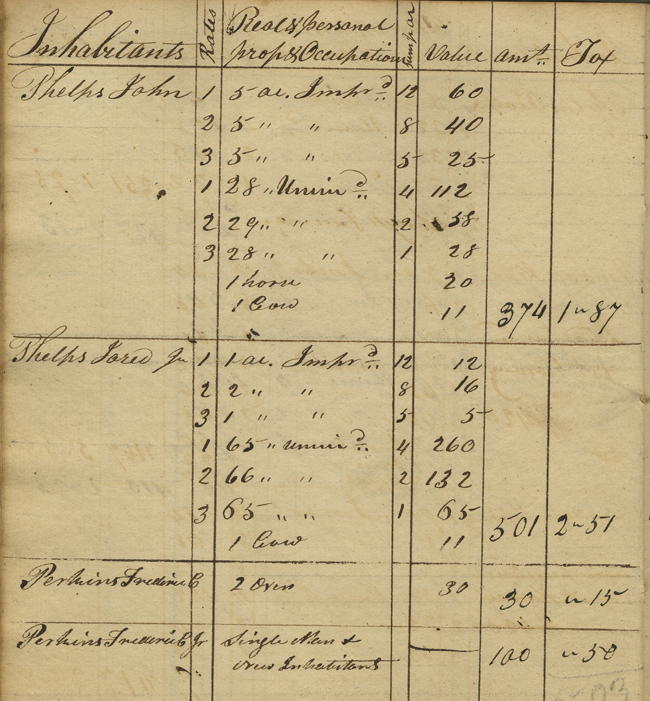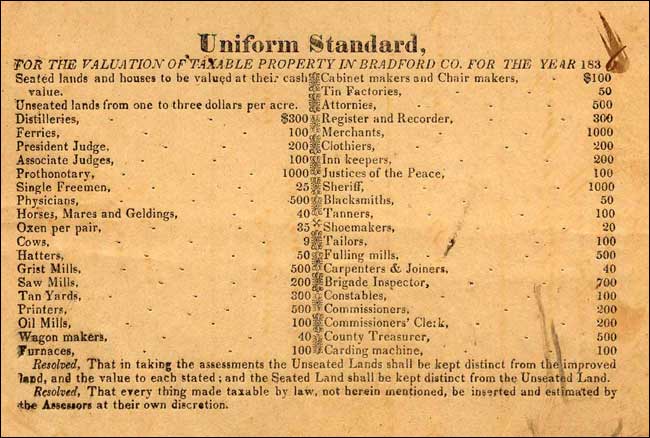 Following is a list of tax assessment books that are available and missing. The year following the name is the year that the township or borough was established.
Alba Borough - 1864
Available: 1865-1981
Missing: 1926, 1930, 1935, 1940
Albany Township - 1824
Available: 1824-1981
Missing: 1851, 1926, 1930, 1935, 1940, 1945, 1950, 1955
Armenia Township - 1843
Available: 1843-1981
Missing: 1926, 1930, 1935, 1940, 1950, 1955
Asylum Township - 1814
Available: 1816-1981
Missing: 1815, 1818, 1820, 1835, 1890, 1926, 1930, 1935, 1940, 1945, 1950, 1955
Athens Borough – 1st Ward - 1831/1895
Available: 1832-1981
Missing: 1849, 1850, 1893
Athens Borough – 2nd Ward - 1895
Available: 1895-1981
Missing: None
Athens Borough – 3rd Ward 1895
Available: 1895-1981
Missing: None
Athens Borough – 4th Ward 1901
Available: 1901-1981
Missing: None
Athens Township - 1797
Available: 1813-1981
Missing: 1817
Barclay Township - 1867
Available: 1868-1966
Missing: 1926, 1930, 1935, 1945, 1950, 1955
Burlington Borough - 1867
Available: 1855-1981
Missing: 1900, 1924, 1926, 1930, 1935, 1940, 1945, 1950, 1955
Burlington Township - 1802
Available: 1804, 1813-1981
Missing: 1852, 1926, 1930, 1935, 1940
Canton Borough – 1st Ward - 1864/1914
Available: 1865-1981
Missing: 1926, 1930, 1935, 1940, 1945, 1950, 1955
Canton Borough – 2nd Ward - 1914
Available: 1914-1981
Missing: 1926, 1930, 1935, 1940, 1945, 1950, 1955
Canton Township - 1804
Available: 1806, 1813-1981
Missing: 1855, 1926, 1930, 1935, 1940, 1945, 1950, 1955
Columbia Township - 1813
Available: 1814-1981
Missing: 1926, 1930, 1935, 1940, 1945, 1950, 1955
Durell Township - 1842-1859
Available: 1844-1859
Missing: 1843, 1849
Franklin Township - 1819
Available: 1820-1981
Missing: 1854, 1855, 1926, 1930, 1935, 1940, 1945, 1950, 1955
Granville Township - 1831
Available: 1832-1981
Missing: 1926, 1930, 1935, 1940, 1945, 1950, 1955
Herrick Township - 1838
Available: 1838-1981
Missing: 1890, 1926, 1930, 1935, 1940, 1945, 1950, 1955
LeRaysville Borough - 1863
Available: 1864-1981
Missing: 1926, 1930, 1935, 1940, 1945, 1950, 1955
LeRoy Township - 1835
Available: 1836-1981
Missing: 1837, 1926, 1930, 1935, 1940, 1945, 1950, 1955
Litchfield Township - 1821
Available: 1824-1981
Missing: 1858, 1926, 1930, 1935, 1940, 1945, 1950, 1955
Monroe Borough - 1855
Available: 1856-1981
Missing: 1857, 1859, 1861, 1926, 1930, 1935, 1940, 1945, 1950, 1955
Monroe Township - 1821
Available: 1822-1981
Missing: 1827, 1828, 1830, 1832, 1834-1840, 1845-1849, 1857, 1868, 1926, 1930, 1935, 1940, 1945, 1950, 1955
New Albany Borough - 1879
Available: 1880-1981
Missing: 1926, 1930, 1935, 1940, 1945, 1950, 1955
Orwell Township - 1802
Available: 1804, 1813-1981
Missing: 1820-1825, 1828, 1831, 1926, 1933, 1936, 1935, 1940, 1945, 1950, 1955
Overton Township - 1853
Available: 1854-1981
Missing: 1926, 1930, 1935, 1940, 1945, 1950, 1955
Pike Township - 1813
Available: 1813-1981
Missing: 1824, 1844, 1926, 1930, 1935, 1940, 1945, 1950, 1955
Ridgebury Township - 1818
Available: 1819-1981
Missing: 1862, 1926, 1930, 1935, 1940, 1945, 1950, 1955
Rome Borough - 1858
Available: 1868-1981
Missing: 1870, 1926, 1930, 1935, 1940, 1945, 1950, 1955
Rome Township - 1831
Available: 1832-1981
Missing: 1834-1840, 1842-1844, 1848, 1849, 1852-1860, 1863, 1865, 1926, 1930, 1935, 1940, 1945, 1950, 1955
Rush Township - 1801
Available: 1802
Missing:
Sayre Borough – 1st Ward - 1891
Available: 1892-1981
Missing: None
Sayre Borough – 2nd Ward - 1895
Available: 1892-1981
Missing: None
Sayre Borough – 3rd Ward - 1895
Available: 1895-1981
Missing: None
Sayre Borough – 4th Ward - 1901
Available: 1901-1981
Missing: None
Sayre Borough – 5th Ward - 1925
Available: 1925-1981
Missing: None
Sheshequin Township - 1820
Available: 1821-1981
Missing: 1822, 1839, 1926, 1930, 1935, 1940, 1945, 1950, 1955
Smithfield Township - 1804-10 era
Available: 1813-1981
Missing: 1926, 1930, 1935, 1940, 1945, 1950, 1955
South Creek Township - 1835
Available: 1836-1981
Missing: 1880, 1928, 1930, 1933, 1938, 1940, 1945, 1950, 1955
South Waverly Borough - 1878
Available: 1879-1981
Missing: None
Springfield Township - 1813
Available: 1814-1981
Missing: None
Standing Stone Township - 1841
Available: 1842-1981
Missing: 1890, 1926, 1930, 1935, 1940, 1945, 1950, 1955
Stevens Township - 1926
Available: 1929-1981
Missing: 1930, 1935, 1940, 1945, 1950, 1955
Terry Township - 1859
Available: 1860-1981
Missing:1862-1867, 1872, 1890, 1926, 1930, 1935, 1940, 1945, 1950, 1955
Tioga Township - 1790
Available: 1796, 1799, 1808
Missing:
Towanda Borough – 1st Ward - 1826/1895
Available: 1813-1981
Missing: 1815-1817, 1819, 1830, 1831, 1940
Towanda Borough – 2nd Ward - 1895
Available: 1895-1981
Missing: None
Towanda Borough – 3rd Ward - 1895
Available: 1895-1981
Missing: None
Towanda Township - 1808
Available: 1812-1981
Missing: 1813, 1814, 1818, 1820-1829, 1830-1839, 1849, 1862, 1957, 1958
North Towanda Township - 1851
Available: 1853-1981
Missing: 1926, 1930, 1935, 1940, 1945, 1950, 1955
Troy Borough - 1845
Available: 1847-1981
Missing: None
Troy Township - 1815
Available: 1817-1981
Missing: 1926, 1930, 1935, 1940, 1945, 1950, 1956
Tuscarora Township - 1830
Available: 1831-1981
Missing: 1832-1869, 1890-1898, 1926, 1930, 1935, 1940, 1945, 1950, 1955
Ulster Township - 1797
Available: 1802, 1813-1981
Missing: 1926, 1930, 1935, 1940, 1945, 1950, 1955
Warren Township - 1813
Available: 1814-1981
Missing: 1816, 1926, 1930, 1935, 1940, 1945, 1950, 1955
Wells Township - 1813
Available: 1814-1981
Missing: 1926, 1930, 1935, 1940, 1945, 1950, 1955
West Burlington Township - 1855
Available: 1856-1981
Missing: 1926, 1930, 1935, 1936, 1940
Wilmot Township - 1849
Available: 1851-1981
Missing: 1870-1879, 1890, 1926, 1930, 1935, 1940, 1945, 1950, 1955
Windham Township - 1813
Available: 1814-1981
Missing: 1926, 1930, 1935, 1940, 1945, 1950, 1955
Wyalusing Borough - 1887
Available: 1888-1981
Missing: 1926, 1930, 1935, 1940, 1945, 1950, 1955
Wyalusing Township - 1790
Available: 1796, 1813-1981
Missing: 1945
Wysox Township - 1795
Available: 1796, 1812-1981
Missing: 1839-1842, 1855, 1900, 1910, 1920, 1926, 1930, 1935, 1940, 1945, 1950, 1955